As we age, our skin loses its stores of Collagen and Elastin, the two proteins that provide skin with its structure and ability to stretch. As a result, skin becomes thinner, more fragile and begins to sag. Decreased production of natural oils and exposure to the sun contribute by making skin drier and more prone to wrinkles. Even the pull of gravity begins to take its toll. So what's a girl to do?
Fortunately, there are a number of things you can do to help improve skin elasticity… from inexpensive and relatively simple lifestyle changes to costly and more extreme measures:
Stop smoking. Studies show that smoking destroys Collagen and Elastin, and decreases your body's levels of Estrogen, which help keep skin supple and firm. The longer you smoke, the more wrinkling you'll experience. And while quitting won't reverse the damage your skin has already incurred, you can prevent it from worsening by quitting now.
Wear sunscreen. Even just a small amount of daily sun exposure without wearing any protection can, over the years, cause premature aging. Try to avoid the sun between the hours of 10 a.m. to 2 p.m., and wear a broad-spectrum sunscreen whenever you do go outside (even in the winter and on cloudy days).
Exercise and eat right. Aside from the obvious reasons why we should all be doing this, getting regular exercise increases blood flow and carries more Oxygen and nutrients to your skin. Eating a healthy, balanced diet rich in omega-3 Fatty Acids and Vitamins A, B, C and E helps protect your skin from free radical damage, increase Collagen production and reverse signs of aging. Eat plenty of fish, leafy green vegetables and nuts. Drink green tea, which is packed with powerful antioxidants. And avoid alcohol, which can dehydrate the skin.
Get your beauty rest. Your skin repairs itself while you sleep, so a good night's rest is crucial to good skin health. Plus it helps keep your skin from looking puffy and saggy around the eyes. If you have problems falling and staying asleep, we recommend the
popular BeautySleep drink, a natural sleep enhancer packed with age-defying herbs, minerals, vitamins and antioxidants.
Skin care products. There are lots of fabulous skin care products on the market that help combat sagging skin. In addition to prescription creams, such as Tretonoin (Retin-A, Renova) and Tazarotene (Avage, Tazorac) to stimulate the production of Collagen, there are other creams, serums and treatments that don't require a prescription. Look for products that contain peptides, Retinol, antioxidants, Vitamins A, C and E, plus Collagen to firm and tone skin. A few of our favorites include Rodial's Chin & Neck Lift, Rodial's Crash Diet Gel, Bliss' Fat Girl Slim, Skin 2 Skin Care's Anti-Sagging Renewal Serum, and Dr. Perricone's Cold Plasma Body to firm, contour and tighten the skin.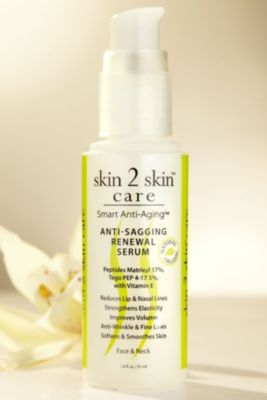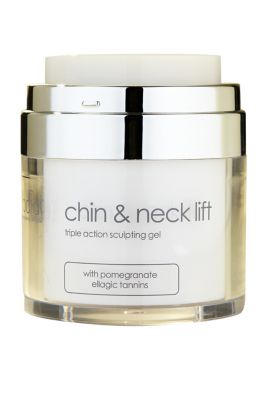 Stay hydrated. And no, we're not talking about coffee and soda!
When your skin is dehydrated, it starts to thin out and sag. Drink lots of water to keep your skin hydrated and plumped up. And to protect your skin from the outside in, use moisturizers.
Medical procedures. There are also skin and surgical procedures that you may choose to do in order to maintain firm, plump skin. Skin procedures would include chemical peels, dermabrasion, laser skin resurfacing and dermal fillers (Botox, Juvederm, Restylane and Perlane). On the more invasive surgical side there are body contouring procedures, such as abdominalplasty ("tummy tuck"), liposuction, face lift, and thigh and arm lifts. Some of these invasive procedures may be helpful for people who have loose, sagging folds of skin as a result of losing a great deal of weight.