Whether you crave juicy citrus brights or have a penchant for pretty pastels — the fashionista picks for summer 2012 color trends — choose colors that inspire and energize you. Wear your go-to hues alone and in clever new combinations; pick invigorat
ing pops of color, or artistic watercolor palettes that gently soothe your mind. Imbue your living space with colors that create special moments, inspire California dreaming, and also ignite your playful side. There are so many creative ways to bring color into your life this summer.
You already know how well-chosen hues bring out your eyes, light up your face, show off your assets, and elevate your mood. No doubt about it, color has the power to transform! And this season, our designers have been moved and inspired by a world of influences, from urban safaris to tropical escapades. We invite you to explore some of these irresistible options for
your wardrobe and abode — try a new fashion palette, or find your perennial favorites and experience them in adventurous new ways.
Indulge in a stunning chiffon maxi dress that makes any day a celebration. The Carnivale Dress features vibrant bursts of on-trend color that encircle you festively, with a flattering scoop neckline and long self-tie sash to complete this glorious fashion statement.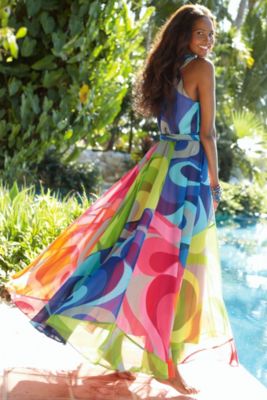 Go for a gorgeous pop of color against fresh, white jeans. The sophisticated Madison Tee has just the right combination of fit and movement, with an urban cool edge. It features loose, convertible sleeves and an elegant, drapey neckline.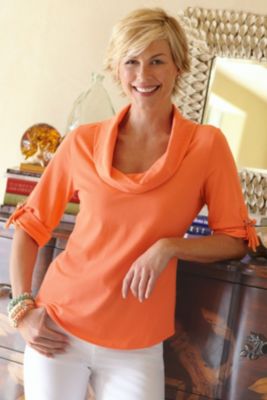 The Sao Paulo Skirt in a swinging, sweeping maxi length looks like it was made for dancing under paper lanterns on balmy nights. Kinetic stripes in vivid colors, and easy sunburst pleats that allow for plenty of movement, are sure to make this skirt a summer staple – that looks incredible with a tank, tee, or blouse.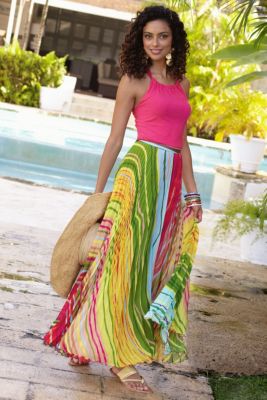 It's floaty and fabulous. Our luxurious statement-making Silk Santiago Caftan is hand tie-dyed, and combines caliente and cool colors with striking embellishment to make you look breathtakingly chic (while comfortable and relaxed).
Continue the summer color adventure in your inner sanctuary. Bring the beauty of nature into your bedroom with the ripe shade of pomegranate of the Bella Smocked Coverlet, and feel energized by the coordinating high-impact hues and ancient motifs of the Bukhara Suzani Pillow.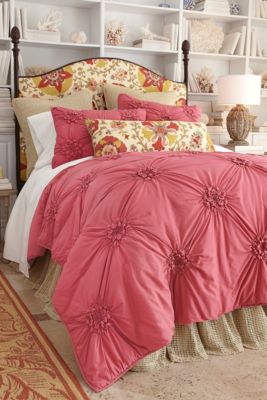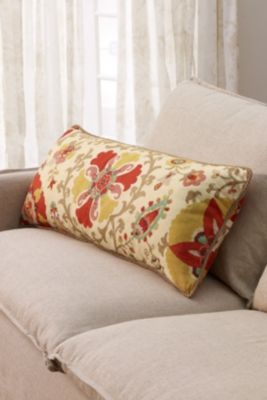 For more home decor inspirations and wardrobe revelations to make this summer one to remember vividly, browse our colorful apparel picks and summer brights for the home.