Bored of your faded-out suit? Searching for new swimwear doesn't have to be a hassle. Start by identifying your body shape. In fact, body type can have almost as big of an impact as size does when it comes to a fit that feels just right. We're making the search fun by matching your type with flattering styles and cuts. We have different types of suits for full busts, small busts, plus sizes, petites, and pear shapes. All you have to worry about is bringing the sunscreen.
Body Type: Full Bust
The best suits for full busts are the ones that will give you adequate support. This applies no matter which level of coverage you're after. Features like thick straps and built-in underwire will provide comfort and a flattering fit. The Miraclesuit Belle Gattino Esmeralda One Piece has both. It also has an attractive plunge V-neck and a wrap design that will enhance your figure.
Full busts can also have fun with retro bombshell styles.
Halter top straps and sweetheart necklines will make you feel like a bathing beauty.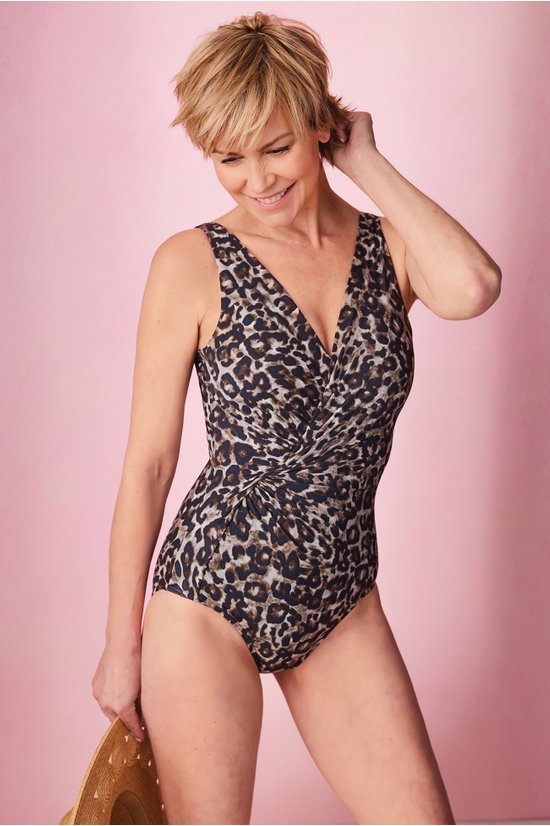 Body Type: Small Bust
There are different ways to flatter small busts, whether you want to create fullness or wear a unique neckline. Swimsuits for small busts sometimes offer padding or underwire for boosting action. However, you can get away with neither if you prefer a more natural look. To build volume, prints and details in the chest area will do the trick. With flounce fabric and floral print, the Magicsuit Oasis Rita Tankini Top is a good example.
One-pieces with creative necklines look stunning on small busts, such as cutouts and one-shouldered suits. Bikinis for small busts are more comfortable if they have adjustable straps. That way you can avoid gaping and shifting.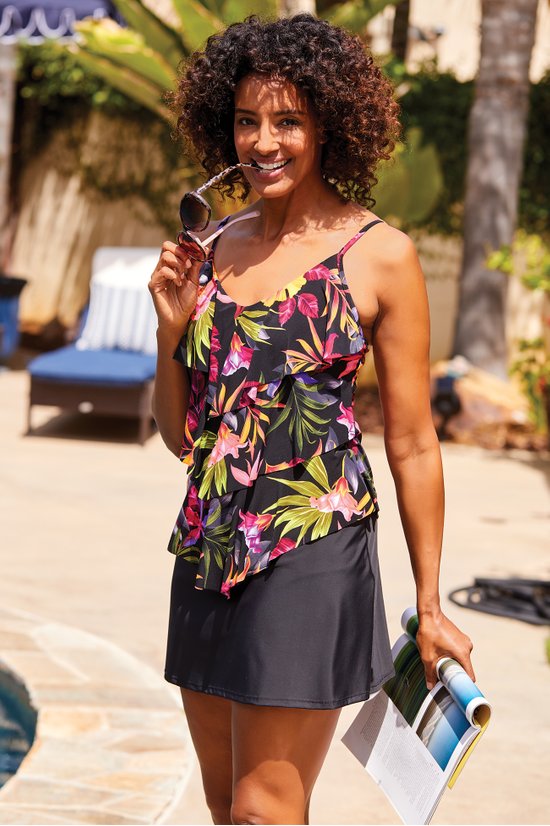 Body Type: Plus Size
There are elegant swimsuits for plus size women out there, whether you're looking for more coverage, slimming features, or curve enhancement.
Swimdresses offer both style and maximum coverage. The convertible Sarong Swimsuit lets you choose what you want to cover or spotlight. Slimming swimwear is another way to go. Bathing suits with shaping fabric, flowy panels, draped fabric, smoothing panels, or ruched fabric slim the tummy area. Want to play up your curves? Swimsuits with a tie waist will create an hourglass silhouette.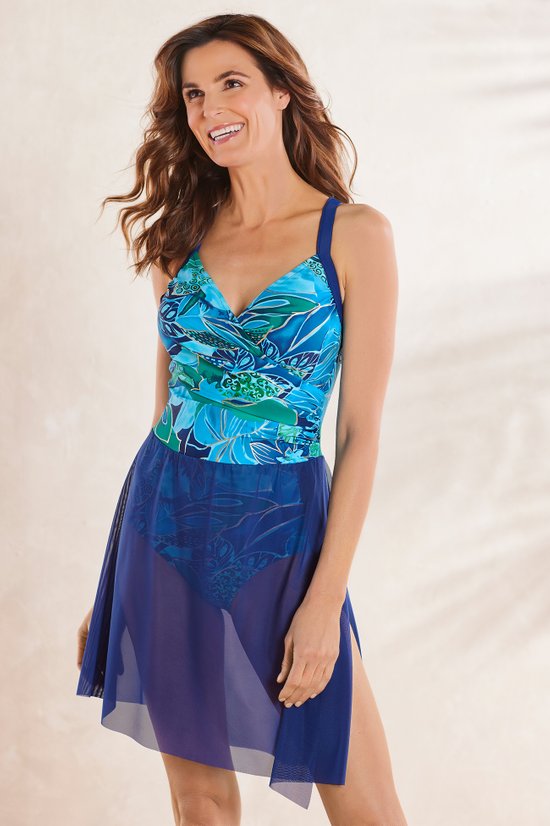 Body Type: Petite
Bathing suits for petite women aren't just for small sizes. It applies to smaller proportions, such as women under 5'3", or women with shorter torsos or legs. Usually the goal for petite bathing suits is to add curves or length.
To add curves, try the Miraclesuit Labyrinth Temptress One-Piece . The strategic curved side prints sculpt the figure beautifully. For a longer torso with shorter legs, the idea is to lift the eye. Try an empire waist or high-waist cut bottoms. If you have a short torso and long legs, look for a one-piece with a high neckline. This creates the illusion of length.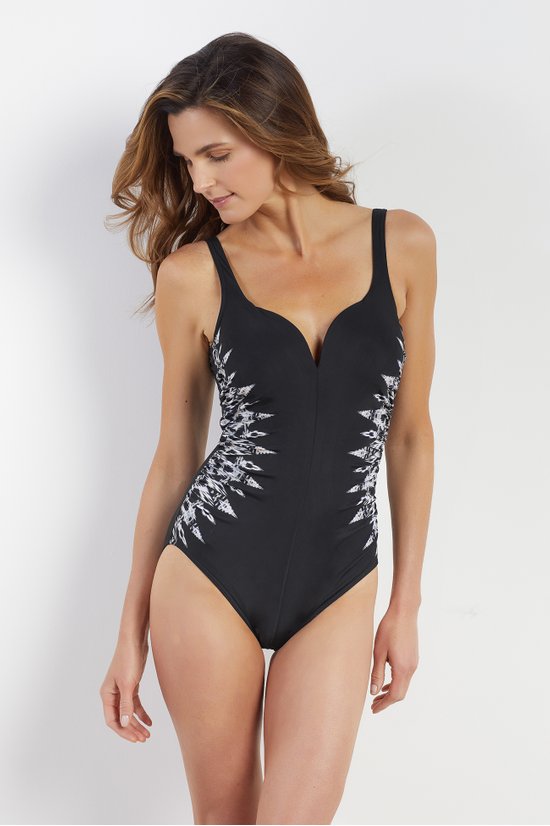 Body Type: Pear Shape
A pear shape means your hips are the fullest part of your body. When looking for bathing suits for pear shapes, there are a couple of strategies. One is to minimize the bottom area, or you can create a visual balance by drawing the eye to the bust or shoulders. Swimdresses are also brilliant swimsuits for pear shapes as they provide extra coverage in the bottom, hip, and thigh areas.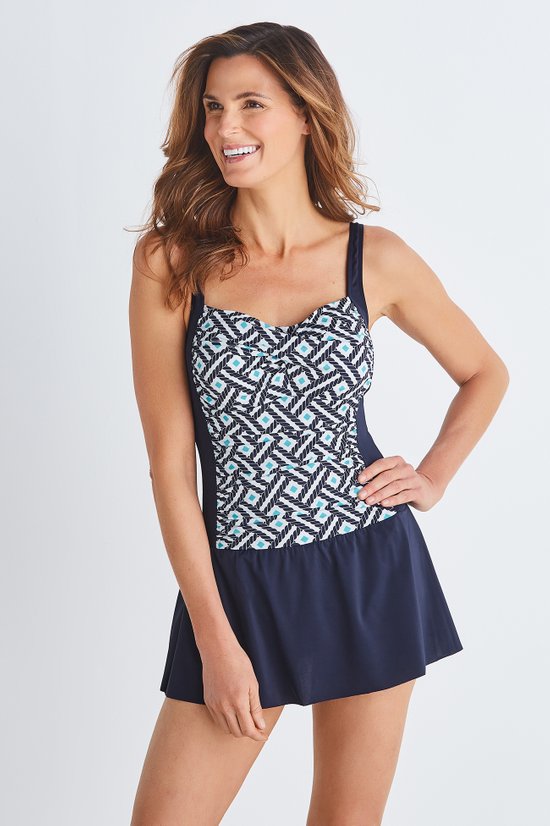 Every body shape should feel glam in swimwear. We hope you found inspiration for our bathing suits for body types guide.
Shop at Soft Surroundings to find a variety of flattering swimsuit styles.